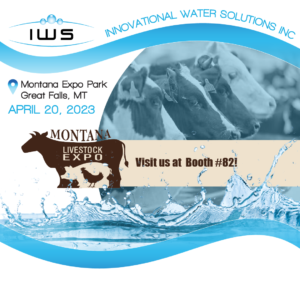 Come see us a the Montana Livestock Expo April 20, 2023 Booth #82!
Montana Expo Park, Great Falls MT!
IWS is the manufacturer of a highly effective, patented water treatment solution called XZIOX®
The XIMAX system is designed and built by IWS to deliver precise treatment dosing of XZIOX® as required for your operations, to increase crop health, faster speed to market, and ROI. Installed at thousands of sites, The XIMAX system is successfully eliminating the biofilm and bacteria in water systems and drinking lines. IWS will conduct a free site survey to determine what size system and dosing is required for your water and livestock. (Contact Us for a FREE site survey & water test!) The XIMAX system can be used in all water sources and systems. When possible, XIMAX systems are installed during livestock turnarounds. We also perform a full flush of the drinking lines. IWS certified engineers do regular monitoring as well as fast service when needed.
APPROVED FOR ORGANIC USE
XZIOX® is approved for organic use by the Oregon Tilth and OnMark. XZIOX®  is also approved by the  NSF National Sanitation Foundation and by DEFRA the Department for Environment Food and Rural Affairs in the United Kingdom.
ADDITIONAL BENEFITS FOR POULTRY:
• Improved FCR
• Lower Mortality
• Improved Gut Health
• Significantly Reduced Antibiotic Use
• Increased Growth Rate
• Reduction in Days to Processing
ADDITIONAL BENEFITS FOR PIGS:
• Removal 99.99%mof Organisms, including: E-Coli, Salmonella, and TVCs.
• Improvement in FCR
• Increased growth rates – Faster ROI
• Lower mortality
• Significantly reduced antibiotic use
• Reduction or elimination of scour
• Improved gut health
• Reduction in days to slaughter
ADDITIONAL BENEFITS FOR CATTLE:
• Removal of Harmful Organisms, including: E-Coli, Pseudomonas, and Salmonella
• Increased Milk Yields
• Reduction in Mastitis
• Lower Somatic Cell Counts
• Reduction in Scours
• Elimination of Algae in Troughs
• Lower Mortality Rate
Visit the Event page at https://cramereventmanagement.com/montana-livestock-expo.html