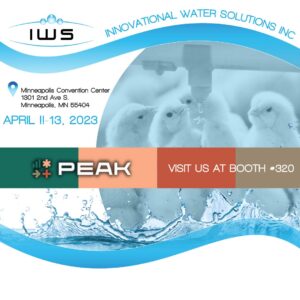 Visit us at BOOTH #320!
Minneapolis Convention Center, 1301 2nd Ave S. Minneapolis, MN 55404
Register: https://midwestpoultry.com/attend/
IWS has an experienced and bio-security trained team of engineers who understand the relationship between water and bacteria as it applies to poultry farms.
Farmers using our patented and Organic Certified XZIOX® systems have seen 99.99% cleaner water, in addition to the potential added benefits of: Reduction in FCR, Reduction in breast burning, Improved gut health, Drier litter, Lower mortality rate, and Increase in average bird weight.
With our simple but effective XZIOX® system, results are almost immediate. XZIOX® targets biofilm in piping and drinkers, which are one of the main concerns of water quality within farming.
Applicable for broiler, laying, or breeder sites.
In addition, our patented spraying and fogging product AVPRO® is proven to reduce and eliminate bacteria, such as: E. Coli, Pseudomonas, Salmonella, Enterococci, TVCs, Coliforms, and Avian influenza.
AVPRO is NON-CARCINOGENIC, making it THE SAFE ALTERNATIVE to FORMALDEHYDE and other disinfectants.
As it works to kill pathogens, AVPRO dissipates quickly after achieving the required results, allowing fast barn re-entry and use.
AVPRO is a Viricide, Bactericide, Fungicide, and Algicide and can be applied via Fogging or Spray Washing, and is DEFRA approved for Avian Influenza in the United Kingdom.