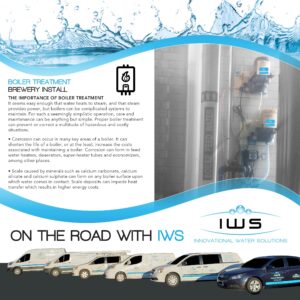 IWS knows that to get the most out of a boiler system a management program must be followed, along with the periodic scheduled service that IWS provides all of our customers. The efficiency and longevity of the boiler and equipment depends on the proper management of water. With the IWS Boiler Management Program customers are reducing treatment use, reducing energy and water use while getting optimum efficiency out of their boiler systems.
Our products and services are designed to analyze the health of your boiler system, including scale & corrosion protection, treatment feeding efficacy, and steam purity management. Our certified licensed technicians ensure that your facility gets the highest quality service.
The solid products we offer include alkalinity boosters, all in one treatments, condensate treatments, internal boiler treatments, online cleaners, oxygen scavengers, pre-treatment & cleaning treatments, and return line treatments.